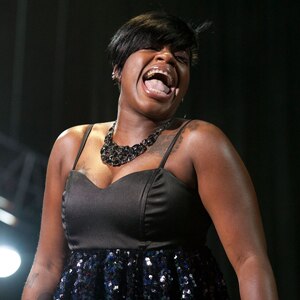 On December 13, 2011 Fantasia Barrino gave birth to son Dallas Xaiver Barrino. Dallas' father is Fantasia's boyfriend Antwaun Cook. It is said that Fantasia was trying to keeps pictures of her newborn offline, but sources say that Cook himself leaked the below picture.

Antwaun Cook and Dallas Xaiver

It is being said that Antwaun regrets leaving his wife Paula Cook and wants to return home. Antwaun and Paula have 2 children together. The weekend of March 3rd Paula and Antwaun were spotted at Club Republic in Charlotte. There are reports of the two kissing and being cozy. Eyewitness say Antwaun was egging people on to take pics of the two of them together. It is also being reported that Paula is willing to forgive and move on with their lives together. Paula never changed the locks and Antwaun still has the keys.
FANTASIA the way you get him is the way you loose him. If he was cheating on his wife with you; do you truly think that he would not cheat on you because you had his child. I HOPE NOT, BECAUSE IT IS VERY APPARENT THAT HAVING CHILDREN WITH PAULA DID NOT STOP HIM FROM GETTING IN YO PANTS.
ONE MORE NOTE FANTASIA PROTECT YO NECK. HOW DO YOU KNOW THAT THE TWO OF THEM ARE NOT IN CAHOOTS TO GET YOU FOR SOME MONEY. FIRST PAULA TRIES TO SUE YOU FOR CAUSING THE DEMISE OF SHE AND ANTWAUN's MARRIAGE. NOW YOU HAVE A CHILD WITH MR. COOK. WHO SAYS HE WILL NOT LEAVE YOU GO BACK TO HIS WIFE AND ATTEMPT TO GET CUSTODY AND FILE FOR CHILD SUPPORT. IT'S POSSIBLE......KEVIN FEDERLINE ~ CHECKMATE!!!!!!!!